Vigo Zenith Frameless Fixed Tub Screen
Available Options:

Hardware Finish: Chrome Frame, Matte Black Frame, Matte Brushed Gold Frame, Stainless Steel Frame
Type of Glass: Clear Glass, Fluted Glass

FIXED PANEL: Spacious fixed Tub Screen provides a relaxing walk-in shower experience
SECURE AND STABLE: Vertical and bottom rail support ensures wall anchoring and reinforces wall stability
TEMPERED GLASS: Spot-free and incredibly safe; this glass resists dangerous breakage and shards
LEAK FREE: Full length vertical and bottom clear seals keep the shower watertight between the glass screen and structural rails
LEAK FREE: Full length vertical and bottom clear seals keep the tub watertight between the glass screen and structural rails
EASY TO CLEAN: Tempered glass is easy to wipe clean
RUST RESISTANT: VIGO's Premium 7-layer hardware resists corrosion and tarnishing
FRAMELESS TUB SCREEN: Modern design enhances the bathroom aesthetics
REVERSIBLE INSTALLATION: Versatile left or right-side installation allow you to customize the look of your bathroom
FRUSTRATION FREE: Detailed, intuitive instructions allow for simple, one-day installation
CONSISTENT FINISH GUARANTEE: All VIGO products are coated and plated under one roof to guarantee consistency in color and finish
GLASS CERTIFICATIONS: 3/8" ANSI Z97.1 and 16 CFR 1201-certified tempered glass
ALL PARTS INCLUDED: All mounting hardware included in packaging
(W = side to side) (D = front to back) (H = top to bottom)
Overall Dimensions with Clear Glass:
34-1/8" W x 3" D x 62" H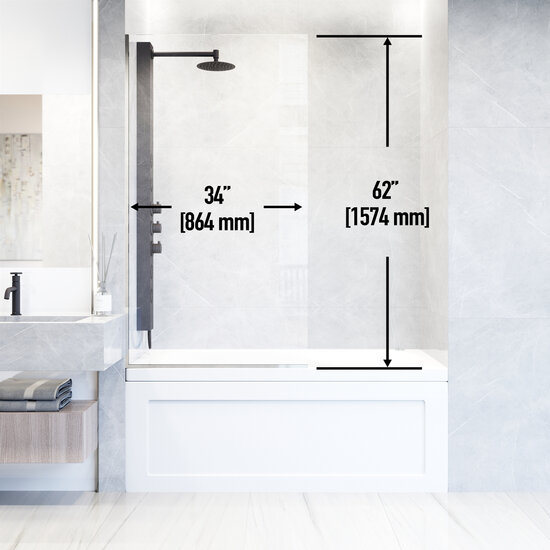 Overall Dimensions with Fluted Glass:
34" W x 3" D x 62" H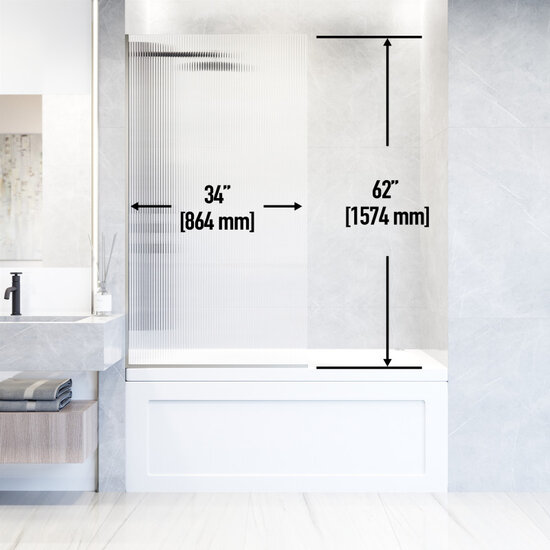 The Zenith Fixed Tub Screen is offered by Vigo. The Zenith is incredibly secure because to its transparent tempered glass, which is resistant to scuffs and unintentional breaks. The shower's bottom and vertical seals are fully transparent and keep the room dry. The shower area in your bathroom is designated by the clear glass tub screen, which gives the room a feeling of openness. The quality 7-layer hardware from Vigo keeps the Zenith Tub Screen looking brand-new for many years to come.

An Aoife Company LLC Store
500 Bic Drive, Suite 103, Milford, CT 06461
Tel: (203) 374-5425 Fax: (203) 373-0810
email:
support@kitchensource.com