Vigo Elan Frameless Sliding Shower Door
Available Options:

Shower Door Size: 60'' W x 74'' H, 72'' W x 74'' H
Side of Sliding Shower Door: Left Side Opening, Right Side Opening
Hardware Finish: Chrome, Matte Black , Matte Brushed Gold, Stainless Steel

FLEX-SIZING™: Offers 4" of horizontal adjustability during installation to fit your space
ROLLER DISK™: Smooth rollers allow air-gliding opening and closure
SMART ADJUST™: Accommodates walls that may shift over time
FINISH PLATED™: Ensures the hardware finish is consistent throughout and guaranteed to match all other VIGO products
LEAK-FREE DESIGN: Metal threshold on shower doors prevents water leaks and ensures that your bathroom floors stay dry
EASY TO CLEAN: High-quality stainless steel constructed hardware easily wipes clean for a lasting sheen
PREMIUM FINISH: VIGO's 7-layer coating ensures long-lasting brilliance that resists rust, corrosion and tarnish
CONVIENENT DOOR HANDLE: Glass door is pre-drilled for handle installation
ALL PARTS INCLUDED: All parts and mounting hardware is included in packaging
(W = side to side) (D = front to back) (H = top to bottom)
60" Overall Dimensions:
60" W x 3" D x 74" H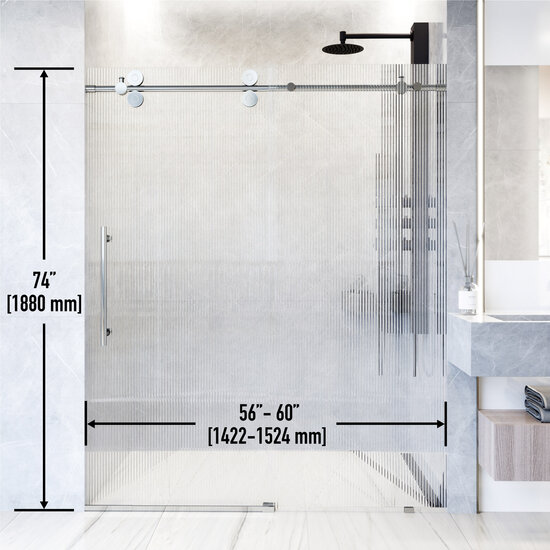 72" Overall Dimensions:
72" W x 3" D x 74" H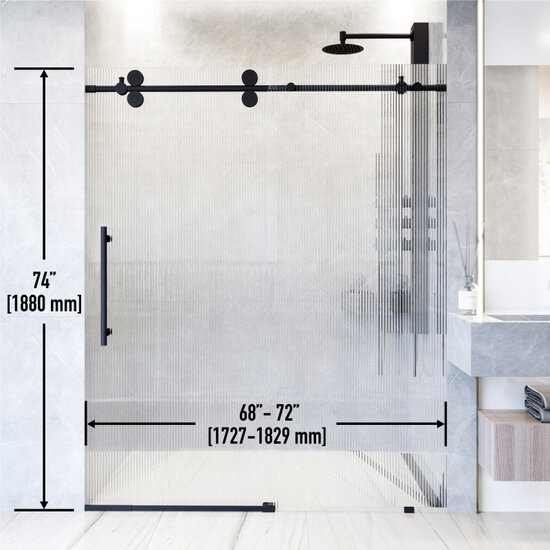 With its eye-catching roller disks and svelte door handle, the Vigo Elan Frameless Sliding Shower Door invites a modern design into your bathroom. Elan will endure a lifetime because it is made of quality fluted tempered glass and strong stainless steel hardware. The door can be fitted with either a left- or right-side opening. To add stability, wall anchoring is possible in the top rail support. Water is deflected toward the shower's interior by a single water deflector, and the shower is waterproof thanks to full-length seal strips. Simple installation instructions make it possible to do it yourself at home.

An Aoife Company LLC Store
6 Landmark Square, 4th Floor, Stamford, CT 06901
Tel: (203) 374-5425 Fax: (203) 373-0810
email:
support@kitchensource.com