Thames River Series Shower Drain
Available in 12'', 24'', 32'', 36'' Width
Shower Drain Filter Included
Constructed of 304 Type Stainless Steel
Stainless Steel: 14 Gauge
Finish: Polished Satin
Drain Diameter: 2"
Contemporary Theme
Limited Lifetime Warranty
(W = side to side) (D = front to back) (H = top to bottom)
SKS-LTS120304:
12''W x 3"D x 3-1/8"H
SKS-LTS240304:
24''W x 3"D x 3-1/8"H
SKS-LTS320304:
32''W x 3"D x 3-1/8"H
SKS-LTS360304:
36''W x 3"D x 3-1/8"H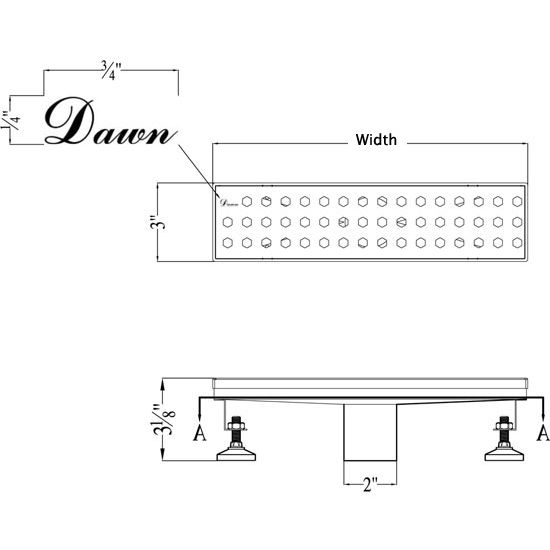 Dawn Sinks Thames River Series Shower Drains are of superior workmanship to ensure the highest quality and are available in various styles to suit the décor of your home. Crafted from 14-gauge (304-type stainless steel), Dawn shower drains are durable and long lasting, and offer light to heavy duty solutions with excellent flow capacity. The satin polished finish guarantees smooth surfaces, safe drainage, and high hygiene. They are highly resistant to temperature variations and easy to install in almost any kind of construction project.
Ships via UPS/FedEx Ground

An Aoife Company LLC Store
500 Bic Drive, Suite 103, Milford, CT 06461
Tel: (203) 374-5425 Fax: (203) 373-0810
email:
support@kitchensource.com