Dropout Cabinet Fixtures TopDrop™ Desktop Hardware Only
Material: Stainless Steel
Finish: Silver
System Includes: (2) Stainless Steel Slides, (2) Moving Top Support Brackets and (1) Mounting Hardware/Fasteners (Pack)
Allows a Portion of the Desktop to be Dropped Back out of the Way to Expose a Keyboard Tray
Desktop Returned with a Simple Return Motion when the Keyboard is not Needed
Desktop/Keyboard Cover and Tray are Not Included
Assembly Required
Made in USA

TopDrop™ Desktop Illustration

(W = side to side) (D = front to back) (H = top to bottom)
Desk Top, Lid & Keyboard Tray Opening Depth:
10" D
Minimum Cabinet Depth:
20" D
Minimum Clearance:
1-1/2"
Weight:
2 lbs.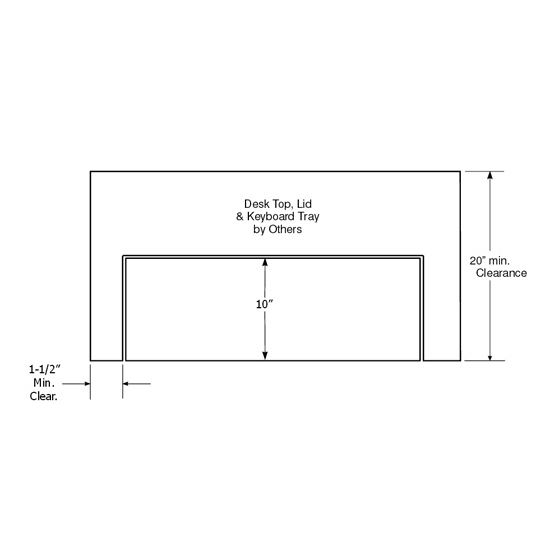 The DCF-8045 TopDrop™ Desktop Hardware Only by Dropout Cabinet Fixtures allow a portion of the desktop to be dropped back out of the way to expose a keyboard tray. The desktop is returned with a simple return motion when the keyboard is not needed. This system includes stainless steel slides, moving top support brackets, and all necessary fasteners. Desktop/keyboard cover and tray are not included. Made in USA. Assembly is required.
Ships via UPS/FedEx Ground

An Aoife Company LLC Store
6 Landmark Square, 4th Floor, Stamford, CT 06901
Tel: (203) 374-5425 Fax: (203) 373-0810
email:
support@kitchensource.com