Winsome Wood Torino 3-Piece 3-Tier Shelf Set
Available Options:

Configuration: 3-Piece: Black Shelf with 2 Black Foldable Fabric Baskets, 3-Piece: Black Shelf with 2 Chocolate Foldable Fabric Baskets, 3-Piece: Walnut Shelf with 2 Black Foldable Fabric Baskets, 3-Piece: Walnut Shelf with 2 Chocolate Foldable Fabric Baskets

Material: Shelf: Solid Wood; Baskets: Fabric
Combine Extra Storage Space with the Convenience of a Folding Shelf for a Great Organizational Piece
Keep Winter Accessories Handy in the Front Hall or Use the Unit to Store Toys, Crafts, Towels or Sweaters
Two Units Can Be Stacked to Provide Additional Vertical Storage Space
Easy and Secure with Metal Ring Handles to Carry Baskets
Furniture Style: Transitional
Assembly Required
(W = side to side) (D = front to back) (H = top to bottom)
3-Tier Foldable Shelf Dimensions:
27-3/4" W x 11-1/2" D x 38-1/2" H
Folded Shelf Dimensions:
27-3/4" W x 2-1/2" D x 42-1/8" H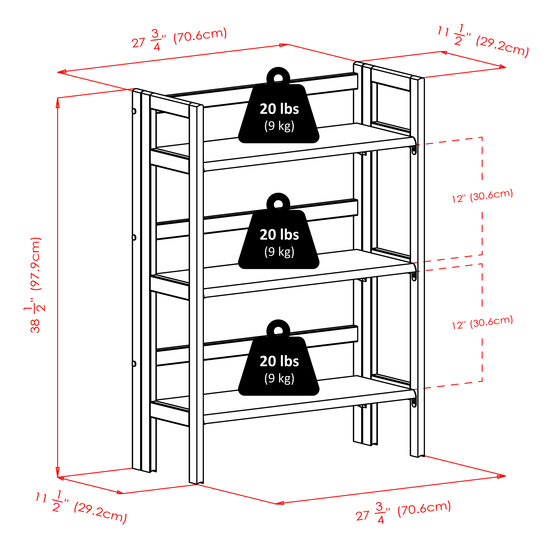 Foldable Fabric Baskets Dimensions:
23" W x 10-1/4" D x 10-1/4" H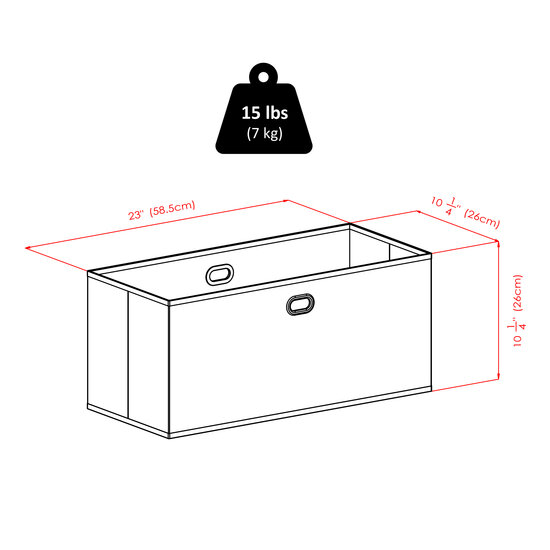 The Winsome Wood Torino 3-Piece Shelf Set keeps seasonal accessories handy in the closet, store the kidís toys, or use as a standalone bookcase in the family or living room. Ideal for the laundry room or home office as this 3-tier shelf can be stacked up to two units to provide you with additional vertical storage space. So, whether you need it to store towels and laundry detergent in the laundry room, or books and collectibles in your home office, this shelf easily folds up and can be moved into another room or stored away taking up minimal space. Finished in black and made of solid wood for long-lasting durability. The foldable baskets are constructed of sturdy fiberboard with black fabric. Carrying them is easy and secure with metal ring handles and just like the shelf can be folded away when not in use. This versatile shelf offers stylish organization for all your essentials. Shelf will require assembly and for your convenience does include the hardware for securely mounting another unit (sold separately). Baskets are shipped folded in a separate box and are ready to use by simply prompting up.
Ships via UPS/FedEx Ground

An Aoife Company LLC Store
6 Landmark Square, 4th Floor, Stamford, CT 06901
Tel: (203) 374-5425 Fax: (203) 373-0810
email:
support@kitchensource.com