(
1
)
For Cooktops up to 60K BTU
500 CFM internal centrifugal blower
Finish: 430 #4 Brushed Stainless Steel
Sizes available: 30" or 36" W
Heat Sentry™ detects excessive heat and adjusts blower to high speed automatically
Bright dual halogen lighting (bulbs included) with 3-Level light intensities (2 x 35 watt, type MR16, GU10)
3-speed electronic push control with blue LED speed selection indicator
Delay timer control automatically shuts off range hood after 10 minutes
Control includes Filter clean indicator / reminder
Optional remote control operation – BCR1 (sold separately)
Quick-release dishwasher safe aluminum filters
Ducted telescopic flue accommodates ceiling heights from 8 to 9 feet
Ducting Options: Vertical only
6" round duct connector/backdraft damper
Designed to work with Broans optional Automatic Make-up Air Dampers (Not Included)
Compatible with optional RF remote control accessory (BCR1, Not Included)
120 volts, 60Hz, 2.88 Amps
Manufacturers one year limited warranty
Ships via FedEx or UPS
* Requires 6" Round Duct - Not Included
* Bottom of hood should be 24" - 36" above cooktop

Optional Features:
Replacement grease filters available
Flue extension for 9-ft. to 10-ft. ceiling (Model FXNE56SS) (ducted or non-ducted)
Convertible to non-ducted operation - requires non-duct kit Model RKE56 (sold separately)
Replacement non-ducted recirculating filters available (Model FILTERE56)
Hand-held remote control - BCR1
Make-up air damper - MD6T (6" duct), MD8T (8" duct) The Automatic Make-Up Air Damper provides a pathway for fresh air to enter a home from outdoors. The Damper opens when a compatible range hood or exhaust fan is operating, thereby creating a known, controlled point for fresh air to enter the home while air is being exhausted from the building by the exhaust fan(s) and/or range hood. The Direct-Wired make up air damper communicates with the exhaust device through an independent, hard-wired connection between the exhaust device and the Damper.  The MD6 is good for hoods up to 500 CFM, the MD8 is good for up to 1000 cfm.  For 1500 CFM two MD8 dampers would be needed. The Make Up Air Adapter mounts in a duct, between outdoors and cold air return within a heating system.
(W = side to side) (D = front to back) (H = top to bottom)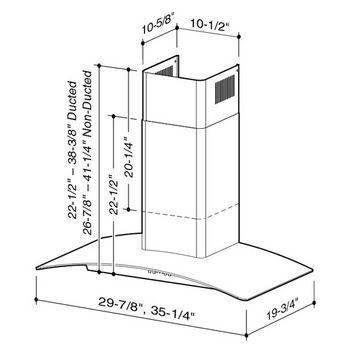 This Broan Elite EW56 Series Wall Mount Chimney Range Hood is available in 30" or 36" sizes for cooktops up to 60K BTU. Able to match any kitchen with its 430 #4 Brushed Stainless Steel finish, the range hood is able to detect excessive heat and adjust blowers to high speed automatically with the included Heat Sentry™ feature. Additional features include powerful blowers, baffle filters, brilliant halogen lighting, variable speed controls and make-up air damper compatibility.
Ships via UPS/FedEx Ground
Awesome range hood
by: LB ✔Verified Buyer from: Clearwater Beach, MD on: May 23, 2012
Love the range hood, very quiet. No problem ordering, it was sent out in a very timely matter, got it even before we thought we would. Just had a problem with the Fed Ex people delivering it, it was 3 days later then it should have been. It looks great!!!



---

An Aoife Company LLC Store
500 Bic Drive, Suite 103, Milford, CT 06461
Tel: (203) 374-5425 Fax: (203) 373-0810
email:
support@kitchensource.com