Available Options:

Finish: White, Grey, Black

NATURAL QUARTZ AND LOW MAINTENANCE: Made from 80% Quartz and 20% Acrylic Resin, this special hardened composite is highly stain, scratch, heat and dent resistant, and is also extremely easy to clean and maintain.
QUIET SINK: The thick composite granite helps to eliminate vibration and noise when sink is in use, ensuring that turning on your faucet won't ever be anything less than enjoyable.
CUTTING EDGE DESIGN: Pietra series sinks are designed to have a perfect balance for functionality and space, with elegant and smooth tight radius corners for easy cleaning as well as bold looks and a perfect slope to make water drain fast.
THREE COLORS: Choose between black, gray or white. Whichever you choose, we can promise non-fading and uniform color will last a lifetime, with the look and feel of real stone.
BEAUTY AND STRENTGH: Clean lines, simple shapes and small corners define this stunning composite granite sink, which combined with the vivid colors and stone appearance offer an amazing addition to your kitchen.
DUAL MOUNT INSTALLATION: This sink can be installed as either undermount or drop-in, with smooth and flat flange for easy installation.
REAR CENTRE DRAIN: Allows for easy draining and more space inside the cabinet.
DEEP BOWL: An 8-1/2" deep bowl accommodates large kitchenware and gives more space inside and under the kitchen sink.
STANDARD STRAINER INCLUDED: Our stainless-steel strainer is compatible with thick drain walls, allowing water to pass through but preventing small food waste from going with it, so it can be collected and thrown away. It will perfectly fit any sink with a 3-1/2" opening, which is industry standard.
PERFECT FIT ACCESSORIES: Complement the style and functionality of your sink with our accessories, designed to perfectly fit your single bowl dual mount composite granite sink while offering great convenience.
GARBAGE DISPOSAL: Stylish kitchen sinks come with the standard drain opening of 3-1/2" diameter that can fit any garbage disposal unit. Due to sink and garburator weight, we recommend adding two shelf "L" brackets, 14 inches long, under the sink bowl.
Limited Lifetime warranty
(W = side to side) (D = front to back) (H = top to bottom)
Overall Dimensions:
15-1/2" W x 17-1/2" D x 8-1/2" H
Internal Dimensions:
13-1/2" W x 15-1/2" D x 8-1/2" H
Minimum Cabinet Size:
16" W
Drain Opening:
3-1/2'' Diameter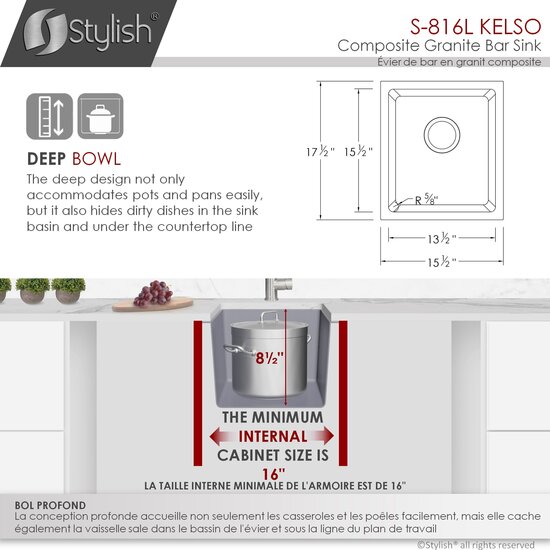 Made with 80% natural quartz this exceptional Stylish International kitchen sink is durable and low-maintenance. Its a stone-like material is much lighter than solid granite and still great for the challenge of handling your everyday demands. Designed to be dual mounted, this kitchen sink can be installed over the countertop or as an undermount sink for a more seamless appearance. A deep 8-1/2" bowl gives plenty of room for pots and pans while its thick granite material eliminates vibration and noise when the kitchen sink is in use, making it exceptionally quiet. The rear center drain allows for optimal drainage, preventing standing water in the single bowl granite kitchen sink and giving you extra space under the cabinet. This kitchen sink includes a standard strainer compatible with the thick drain surface, installation instructions and mounting hardware. Clean lines and simple shapes define this stunning single bowl dual mount composite granite kitchen sink and will modernize the look of your entire kitchen. Rock your kitchen experience with this amazing single bowl dual mount composite granite kitchen sink that highly resistant to scratches and dirt.
Ships via UPS/FedEx Ground

An Aoife Company LLC Store
6 Landmark Square, 4th Floor, Stamford, CT 06901
Tel: (203) 374-5425 Fax: (203) 373-0810
email:
support@kitchensource.com