Stylish International STYLISH 16" W Single Bowl Stainless Steel Kitchen Sink
PREMIUM MATERIAL: This undermount sink is made surgical grade SUS 304 stainless steel in 16 Gauge, with an optimized 18% Chromium and 10% Nickel content, this sink is superbly crafted to provide excellent strength and hardness with an exceptional resistance to corrosion and rust; The specially chosen satin finish will hide water spots and maintain a uniform patina finish as the sink ages
PERFECT CORNERS: All welds and corners are perfectly blended through an automated machine buffing system and careful hand polished, for a luxurious finish. Stylish® sinks have an elegant and smooth to touch 10 mm radius in the corners for easy cleaning and bold looking
INSULATION COATING: Stylish® sinks have a noise undercoating sprayed over extra thick rubber pads to create a noticeable lower tone and overall a very quiet sinks and prevents water condensation
EXTRA DEEP: This single bowl sink is specifically designed for the busy parent and young professional in mind; The deep design not only accommodates pots and pans easily, but it also hides dirty dishes in the sink basin and under the countertop line
CANADIAN DESIGNED: Stylish sinks are Canadian designed and meet the highest plumbing standards for North America; The sinks have drains towards the rear, for better utilization of the space under the sink cabinet; Also sink basins have drain grooves for optimal drainage.
QUALITY STRAINERS: This model comes with square strainers.
BOTTOM GRIDS The set of stainless-steel grids that are included with this undermount kitchen sink are made of 100% stainless steel and it will really help to protect your sink from dents or scratches
GARBAGE DISPOSAL: This model comes with square drain opening holes but is compatible with any standard garbage disposal unit when using the adapter DA-01 offered by Stylish
QUIET SINK: This quiet undermount kitchen sink has heavy duty sound guard padding and undercoating to minimize noise; This padding is made of thick rubber pads and they are on all sides and bottom of the kitchen sink; This sink is additionally treated with protective coating, which provides sound insulation against noise and thermal insulation against condensation
DEEP BASIN(S): Specifically designed for the busy parent and young professional in mind; The basin design in this stainless steel kitchen sink not only accommodates pots and pans easily, but it also hides dirty dishes in the sink basin and under the countertop line
OPTIMAL DRAINAGE: This kitchen sink has a sloped bottom with grooves to allow complete water drainage; The stainless-steel kitchen sink will drain and dry quickly and effortlessly; This undermount stainless steel kitchen sink has a standard 3-1/2" drain opening and is engineered for quick and easy drainage
CANADIAN DESIGNED: Stylish sinks are Canadian designed and meet the highest plumbing standards for North America; The sinks have drains towards the rear, for better utilization of the space under the sink cabinet; Also sink basins have drain grooves for optimal drainage
(W = side to side) (D = front to back) (H = top to bottom)
Overall Dimensions:
16" W x 18" D x 10" H
Internal Dimensions:
14'' W x 16'' D x 10'' H
Minimal Cabinet Size:
18'' W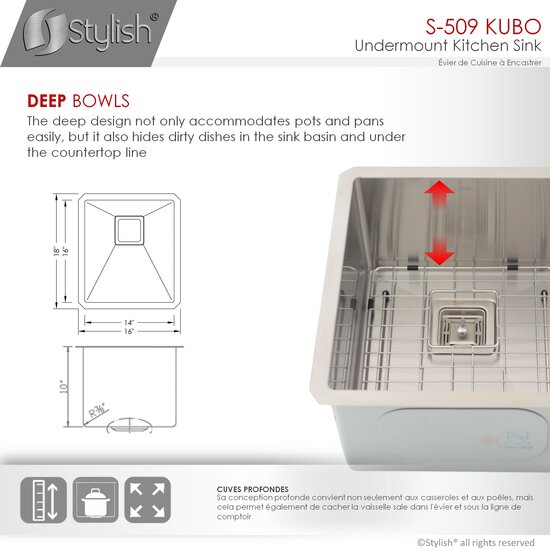 This Stylish International kitchen sink's extra-deep basin accommodates pots and pans easily, but it also hides dirty dishes in the sink basin and under the countertop line. The specially chosen satin finish will hide water spots and maintain a uniform patina finish as the sink ages while the tight-10mm radius corners are perfectly blended through an automated machine buffing system and careful hand polished, for a luxurious finish. This Stylish(r) sink is equipped with soundproofing system including a protective Stone Guard coating and extra thick rubber pads to create a noticeable lower tone and overall a very quiet sink and the coat is sprayed underneath the sink to prevent water condensation. STYLISH international stainless steel sinks combine functionality, quality and affordability. Made of surgical grade SUS 304 stainless steel in 16 Gauge, with an optimized 18pct Chromium and 10pct Nickel content to provide excellent strength and hardness.
Ships via UPS/FedEx Ground

An Aoife Company LLC Store
6 Landmark Square, 4th Floor, Stamford, CT 06901
Tel: (203) 374-5425 Fax: (203) 373-0810
email:
support@kitchensource.com