DUAL MOUNT INSTALLATION: This sink can be installed as undermount and as drop in the mounting hardware required for installation is included.
EASY TO CLEAN CORNERS: Gently rounded corners provide the sink with beautiful and minimalist edges. Maximize workspace in the sink bowl and offer a sleek contemporary look that is still easy to clean.
QUIETEST SINK: Extra thick cushion pads that effectively cancel noise and vibration from daily use, protect cabinets from condensation damage.
INDESTRUCTIBLE CONSTRUCTION: Made of super thick 16 gauge T304 stainless steel with superior strength and durability. Premium dent resistant steel that offers exceptional resistance to corrosions and rust.
PERFECT FIT GRID: Stainless steel bottom grid that perfectly into your AZUNI kitchen sink.
EASY DRAINING: AZUNI's sinks come together with intelligent, exquisitely designed solutions. They feature grooves to allow for complete water drainage. The clever engineered square strainer combines efficiency with style. The stainless steel sink strainer comes with a removable garbage basket which keeps food and garbage from clogging the drainpipe.
DEEP BASINS: Practical design that takes away water splashing and can easily accommodate multiple dishes. The spacious 10" depth make it easy for washing big pans and baking sheets.
FREE ACCESSORIES: One multi functional dish grid to protect sink bottom, one modern square drain strainer.
QUALITY STRAINERS: This model comes with square strainers. This model comes with square drain opening holes but is compatible with any standard garbage disposal unit when using the adapter DA 01 offered by Stylish.
EASY INSTALATION: Mounting hardware and cut out template will guide you through the entire installation process. Online installation manual and DXF ?le also available.
HEAVY DUTY PACKAGE: In order to make your shopping experience smooth and perfect, we have reinforced product package to protect mounting flange.
(W = side to side) (D = front to back) (H = top to bottom)
Overall Dimensions:
32" W x 18" D x 10" H
Internal Dimensions:
30'' W x 16'' D x 10'' H
Each Bowl Dimensions:
14-1/2" W x 16'' D x 10" H
Minimum Cabinet Size:
32-1/2'' W
Drain Opening:
3-1/2'' Diameter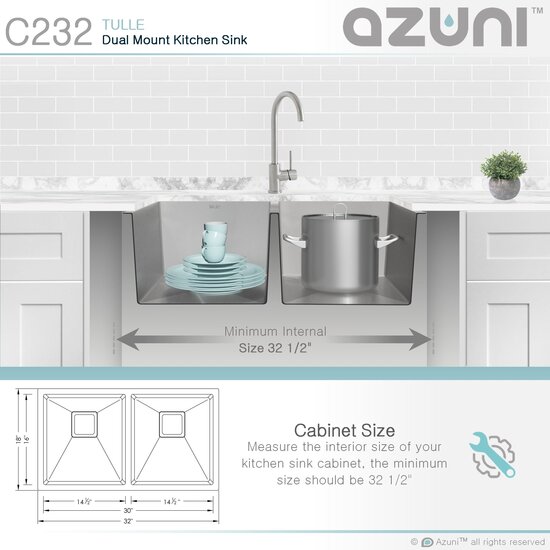 Stunning, this piece of art kitchen sink is hand shaped to perfection using certified 16 Gauge 304 Stainless Steel for superior strength and quality. Its deep bowls comfortably accommodate the big dish loads including pots, pans and more! Every AZUNI sink features thick and large echo-stop sound dampening pads and a layer of protective composite coating to further eliminate noise and prevent condensation. The refined 10mm radius soft corners allow of easier cleaning while its well-defined diversion lines ensure quick and total water drainage. AZUNI sinks by Stylish International are manufactured with the highest quality, sports extremely resistant stainless steel, together with the best design and functionality. Clever engineering and innovation are the key features to make this kitchen sink by Stylish International stand out.
Ships via UPS/FedEx Ground

An Aoife Company LLC Store
500 Bic Drive, Suite 103, Milford, CT 06461
Tel: (203) 374-5425 Fax: (203) 373-0810
email:
support@kitchensource.com