Kraus 33'' 16 Gauge Double Bowl 60/40 Standart Pro™ Kitchen Sink Combo Set With Bolden™ 18'' Kitchen Faucet And Soap Dispenser
Kitchen Set Includes: Sink, Faucet, Soap Dispenser, Drain Assembly With Strainer (X2), Protective Bottom Grids (X2), Kitchen Towel
Commercial Pull-Down Faucet with Reach™: Easy-retract flexible hose offers an extended 16" range of motion with the ability to flex, pivot, and reach all around the sink
Exceptional Value: A Best Selling Sink With Proven Quality Paired With A Precision-Engineered Commercial Pull-Down Faucet For A Trendy Yet Timeless Look
Durable & Dent-Resistant: Sink Is Made From T304 Stainless Steel With Extra-Thick Tru16 Real 16-Gauge Construction
Noisedefend™ Soundproofing Technology: Features Extra-Thick Pads Covering Over 80% Of The Sink And Non-Toxic Undercoating For Superior Protection Against Noise
Free Accessories: Protective Bottom Grids (X2), Premium 3-Piece Basket Strainer Set, Drain Assembly With Strainer, Kraus Kitchen Towel
Commercial Grade Satin Finish: Corrosion And Rust-Resistant; Resilient And Easy To Clean
Undermount Installation: Sink Installs Beneath The Counter For A Seamless Transition Between Counter And Sink
Deep & Super Spacious Sink: Comfortably Accommodates Your Biggest Cookware Including Baking Sheets And Stacks Of Dishes
Engineered Drain Grooves Direct Water Toward Drain To Keep Sink Free Of Standing Water, With Rear-Set Drain Opening To Increase Workspace In The Sink
Installation-Ready: Kraus Provides All Mounting Hardware, Cut-Out Template, Installation And Care Instructions
Faucet Finish: Corrosion And Rust-Resistant, Will Not Fade Over Time
A Perfect Fit: Optimized For Residential Use, Bolden™ Features A Compact 18'' Height To Fit Underneath Almost Any Kitchen Cabinet For Easy Installation
Commercial Pull-Down Faucet With Reach™: Easy-Retract Flexible Hose Offers An Extended 20" Range Of Motion With The Ability To Flex, Pivot, And Reach All Around The Sink
Dual-Function Sprayhead With Easy-Clean Nozzles: Go From Aerated Stream To Powerful Spray To Cover Everything From Rinsing Produce To Heavy Scrubbing
Smart Single Handle Design: Faucet Handle Operates With A 90° Forward Rotation, Allowing For Installation In Tighter Spaces
Eco-Friendly Faucet: Water-Saving Aerator Reduces Water Waste Without Sacrificing Pressure By Providing An Efficient 1.8 Gpm Flow Rate
Lifetime Limited Warranty Guarantees That You're Getting Something You Can Count On For Long-Term Performance
(W = side to side) (D = front to back) (H = top to bottom)
Sink Specifications:
Overall Size:
32-3/4''W x 19''D x 10''H
Minimum Cabinet Size:
36''
Faucet Specifications:
Faucet Length:
10-3/4''
Faucet Width:
4-1/2''
Faucet Height:
17-15/16''
Faucet Hole Size Requirement:
1-3/8''
Spout Height:
6-3/8''
Spout Reach:
8-3/4''
Flow Rate (GPM):
1.8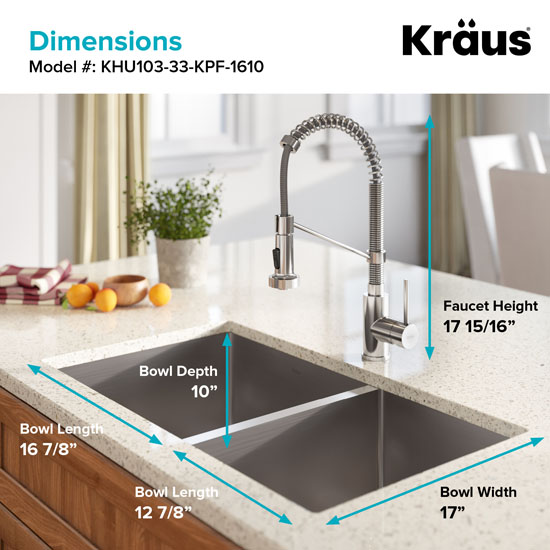 Image Above Displays
Inner Sink Dimensions
Upgrade to modern kitchen style with a best-selling Standart PRO™ Series sink, paired with a sleek Bolden™ commercial pull-down faucet for maximum visual impact. This sink is Durable & Dent-Resistant, made from T304 stainless steel with extra-thick TRU16 real 16-gauge construction and NoiseDefend™ Soundproofing Technology. Featuring extra-thick pads that cover over 80% of the sink and non-toxic undercoating for superior protection against noise. This KRAUS Kitchen Combo sink makes it easy to build the high-end kitchen of your dreams.
Ships via UPS/FedEx Ground

An Aoife Company LLC Store
500 Bic Drive, Suite 103, Milford, CT 06461
Tel: (203) 374-5425 Fax: (203) 373-0810
email:
support@kitchensource.com