KRAUS Turino™ Solid Core Fireclay Dual-Mount Workstation Drop-In / Undermount Single Bowl Kitchen Sink
REQUIRED MINIMUM CABINET SIZE: 36" W Left to Right, 24" D Front to Back
WORKSTATION SINK: With integrated ledge for sliding accessories so you can prep, cook, and clean up without losing any workspace on the kitchen counter
TIMELESS STYLE: Made in Italy from the finest fireclay, Turino™ Workstation Sinks combine modern style with traditional elegance for a clean look that fits a wide range of kitchen styles
DUAL MOUNT DESIGN: With thick mounting deck allows you to install this sink as an undermount or drop-in for maximum style flexibility – Sink can be installed with drain positioned on the left or right side
THICK MOUNTING DECK: Ideal for retrofitting, thick deck supports the weight of the sink for drop-in installation into an existing countertop cutout, creating a beautifully finished look
DURABLE SOLID CORE CONSTRUCTION: Stands up to heavy use and helps resist impact and thermal shock, unlike hollow-core sinks that can crack under impact
RESILIENT FINISH: Fired at 2300°F, the porcelain enamel coating creates an extremely durable sink surface that's highly resistant to stains – Ultra-smooth surface is glossy and easy to clean
ULTRA-FINE FIRECLAY BLEND: With dense composition allows for even application of glaze, helping to prevent cracking and crazing that can occur with sinks made from coarse-grain material
EASY TO CLEAN: Extremely smooth non-porous surface and rounded corners are easy to clean, helping reduce build-up over time
SPACIOUS SINGLE BOWL: Large sink with rounded corners provides a generous workspace for your biggest cookware and stacks of dishes – Off-set drain creates an uninterrupted work surface and increases storage space underneath the sink
SUPERIOR DRAINAGE: Gently sloped sink bottom helps prevent water from pooling in the sink – Optimized slope helps keep fragile glassware from tipping
HEAT RESISTANT: Thick porcelain enamel coating is heat resistant up to 300°F, not prone to cracking from hot plates and cookware
NATURALLY SOUND DAMPENING: Dense composition of fine fireclay helps reduce noise and vibration when the sink is in use
RECOMMENDED ACCESSORIES (sold separately): Roll-Up Dish Rack (KRM-11) helps keep countertops dry – Cutting Board (KCB-WS301SA) allows you to chop and slice over the sink – Drain Assembly (PST1-WH) creates a matching look
5 YEAR LIMITED WARRANTY: With top-rated Customer Service team so you can choose KRAUS® products with confidence
(W = side to side) (D = front to back) (H = top to bottom)
36" Required Minimum Cabinet Width Size:
36" W Left to Right, 24" D Front to Back
Overall Outside Dimensions:
33-1/8" W x 19-1/2" D x 10" H
Inside Bowl Dimensions:
30-1/2" W x 17" D x 10" H
Drain Opening:
3-1/2" Diameter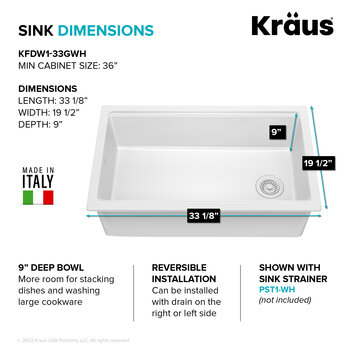 The KRAUS Turino™ Solid Core Fireclay Dual-Mount Workstation Drop-In / Undermount Single Bowl Kitchen Sink is made in Italy from the finest raw materials and a perfect combination of timeless design and modern functionality. Engineered with an integrated ledge to support workstation accessories, this innovative sink creates a multifunctional workspace that streamlines all your kitchen tasks. Available accessories (sold separately) include durable cutting boards and dish drying racks that allow you to work right over the sink without losing space on the kitchen counter. Designed for a choice of drop-in or undermount installation, this versatile dual mount sink creates a clean look that fits into a variety of kitchen styles. The thick mounting deck helps support the weight of the sink and sits flat against the countertop for a beautifully finished look. Durable solid core construction offers outstanding resistance to impact and thermal shock, unlike hollow-core sinks that are susceptible to cracking. Ultra-fine fireclay blend with dense composition allows for even glaze application that helps prevent cracking and crazing. Fired at 2300°F, the porcelain enamel coating creates an ultra-smooth glossy finish that's easy to clean. Color-stable material helps resist discoloration over time. The large single bowl with off-set drain and rounded corners maximizes usable workspace and creates more space in the base cabinet. A gently sloped bottom promotes better drainage.
Ships via UPS/FedEx Ground

An Aoife Company LLC Store
6 Landmark Square, 4th Floor, Stamford, CT 06901
Tel: (203) 374-5425 Fax: (203) 373-0810
email:
support@kitchensource.com