304 brushed finish stainless steel (18/10) - 18 gauge
Sound deadening pads
Drain located towards rear providing more space under the sink
Strainer and mounting hardware included
Product certified ASME A112.19.3, CSA B45.0, and CSA B45.4
Prochef offers a LIMITED LIFETIME WARRANTY on the fix components of its inox sinks. This warranty is limited to defects or damages resulting from a normal residential use.
(W = side to side) (D = front to back) (H = top to bottom)
Overall Dimensions:
32"W x 18"D x 8"or 10"H
Bowl Size:
30"W x 16"D x 8" or 10"H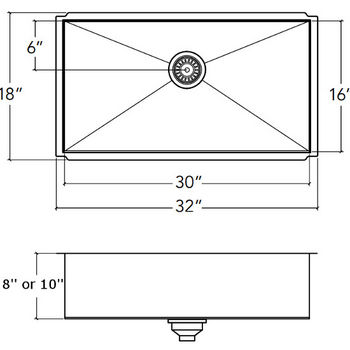 Julien's ProChef JU-IH0-US-32188 is a beautiful Kitchen Sink, constructed from 304 Stainless Steel. If you're looking to modernize your home with Stainless Steel's unique style, look no further! The distinctive Zero-Radius design grabs attention with its linear, space maximizing form. A series of Sound Deadning Pads greatly reduce the sink's noise, giving it a sound profile of bulkier, heavier sinks with out the cost.
Ships via UPS/FedEx Ground

An Aoife Company LLC Store
6 Landmark Square, 4th Floor, Stamford, CT 06901
Tel: (203) 374-5425 Fax: (203) 373-0810
email:
support@kitchensource.com