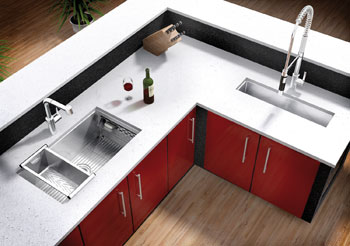 The kitchen is the heart of the home, so it has to run smoothly. Though the stove may get the glory, it's your
kitchen sink
that's the real workhorse. Follow our buying guide to the perfect sink installation for your space.
1. Measure Up
The first step is to make sure your new sink will fit into your countertop by determining the minimum cabinet size. Measure the opening width under your existing sink (or where the new one will be installed) from left to right. This measurement is your cabinet size. Then, allow at least 2-3 inches on both sides for mounting hardware. For example, a 36" cabinet can accomodate a 30-32" sink. Next, measure front to back to find cabinet depth (standard cabinets have a 24" depth). If your countertop has a backsplash, subtract its thickness from this figure. In general, most cabinets can accommodate a sink that is 20 inches front to back. Last, choose a height (top to bottom) for your sink. Remember that additions such as garbage disposals can add significant length underneath.
2. Choose a Style
The next task is to decide what installation type you prefer. This not only impacts your kitchen's aesthetic, but also affects the number of basins and other features the sink will have available.
Drop In
One of the easiest sinks to install, the drop-in sink is one of the market's most popular styles. The sink is easily placed into an opening and fastened. Also called self-rimming sinks, this type of sink has a rim or lip that frames the sink's outer edge.
Undermount
The drop-ins' antithesis; undermount sinks mount from below the counter. The result is a clean, smooth appearance that is flush with the surrounding countertop, making cleanup a cinch.
Front Apron
Also called farmhouse, front apron sinks are large and deep with an exposed front panel. Besides their country appeal, these sinks are ultra-sturdy with ample basin space. Choose the classic look of fireclay or opt for a contemporary rendition in stainless steel or copper.
Bar/Entertainment
Entertainment/ prep sinks provide an extra workspace when installed into a bar or kitchen island. Available in drop-in or undermount installation, bar sinks are typically smaller and come in oval, round or square silhouettes.
4. Hole Count
If you are choosing a drop-in or rimmed sink, consider the number of faucet holes you will need. Most sinks offer cutout holes that are easily punched in. First, note how many holes your faucet requires, and then choose additional accessories. A single-hole sink can accommodate one single lever faucet, while two holes add the option of a side spray, soap dispenser, or a hot or chilled water dispenser. Three holes allows for a faucet with separate handles for hot and cold or a single lever faucet with two of the previously mentioned accessories. Four holes or more allow for the option of a faucet with hot and cold handles plus accessories.
5. Material Matters
The material of your sink affects its look and performance. Lucky for you, today's market offers a wide array of innovative components that are as durable as they are stylish.
Stainless Steel
The most popular choice in today's kitchens, stainless steel comes at an affordable cost plus is lightweight and virtually unbreakable. Another bonus is its sound-insulating capabilities, but stainless does require frequent cleaning to remove water spots. Stainless steel is offered in differing gauges, or thicknesses: The higher the gauge, the thinner the steel. 18 is an ideal gauge for sinks, as it is least susceptible to denting or scratching. Offered in a mirrored finish, stainless has a shinier appearance but scratches are more likely. The newest craze is brushed, or satin stainless which has ultra scratch-resistant qualities.
Copper
A good choice for the environmentally conscious, copper features strong anti-microbial qualities and is 100-percent recyclable. The material also patinas over time for a uniquely aged look. Though it requires more care and attention than some alternatives, copper's multidimensional traits add unmistakable character.
Granite
Granite offers optimal scratch resistance, while its non-porous surface ensures a cleaner sink. With added longevity and durability, this material typically comes with a higher price tag.
Quartz
Like granite, quartz provides an ultra-durable sink surface. The material can easily withstand a hot pan right off the stove and also fights thermal conductivity to keep dishwater warmer longer. Quartz also resists scratches and stains and can withstand harsh cleaning materials.
Fireclay
Fireclay, also referred to as ceramic, is a non-porous, durable and glossy material. Fired at a high temperature for optimal longevity, it resists scratches, stains and chips.
Acrylic
A more affordable option than granite or quartz, acrylic offers many of the same stain-resistant qualities. Plus, the smooth surface can be sanded and buffed if scratches do occur, keeping your sink looking newer longer. One setback is the material's poor heat resistance, so users must be careful to wait to place pots, pans or liquids into the sink until they have cooled.
6. Accessorize
You have successfully chosen your dream sink! Now, top with choice
accessories
that add workspace and simplify tasks. Keep soap in reach with a sleek built-in
soap dispenser
.
Cutting boards
feature innovative designs that rest across the sink for easy use, many with a built-in colander.
Strainers
and
wire accessories
protect your sink bottom while keeping your drain clean. Well-designed
colanders
rest across your sink, freeing your hands to handle heavy pots and pans. And don't forget to install a
garbage disposal
to eliminate pest-attracting food waste.