(
1
)
Quantum Single Bowl Kitchen Sink
Drop In installation
Available in Multiple finishes
Minimum Cabinet Size: 18"
Includes 1 faucet hole (2 additional holes are pre-drilled "knock-out" holes which can be punched out if needed)
Made of granite - resists stains, chips and heat up to 536 degrees
Features highly reduced bacterial growth - microbial growth can double every 20 minutes, and the unique granite treatment strongly reduces this, making cleaning easier and more effective
Sanitized® exclusive built-in germ fighter
The quartz sand is kiln fired with color particles at 1112° F, ensuring even coloring that is permanently light fast
Does not include strainer basket
Limited lifetime warranty


To "knock-out" the pre-drilled extra holes:

Step 1: carefully set sink into the cutout countertop. This will provide proper support
Step 2: Place a small flat punch on the center of the selected knockout sticker located on top of the deck. DO NOT PUNCH FROM THE BOTTOM.
Step 3: Strike firmly with hammer
Step 4: Remove to install clips, faucet or other accessories
Step 5: Follow instructions provided with sink for installation



Note: Easy daily care - Simply use a nylon brush and soapy water. Brush in a circular motion and rinse thoroughly. Dry after use to prevent any film build-up from hard water deposits. Never use abrasive powders or pads. This can dull and scratch the surface and make it more susceptible to stains. Avoid: Scouring liquid or powder – these may scratch the surface; Powerful alkaline liquids – i.e. strong ammonia or caustic soda solutions; Chemical drain cleaners that require your sink to be filled with water.
(W = side to side) (D = front to back) (H = top to bottom)
Overall:
16-3/4"W x 20-1/2"D x 8"H
Minimum Cabinet Size:
18"
Drain Opening:
3-1/2"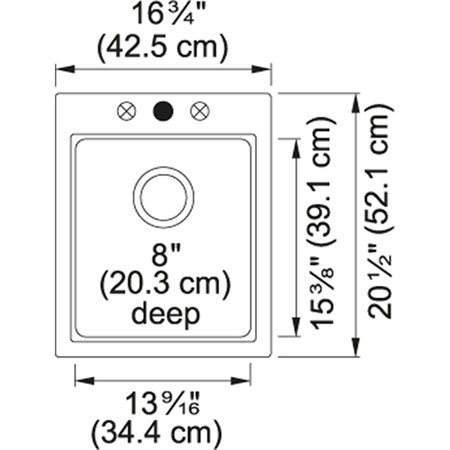 This Franke Quantum Single Bowl Kitchen Sink is made of granite, which resists stains, chips and heat up to 536 degrees. Available in multiple finishes, the granite sink has drop in installation with a minimum cabinet size of 18". The sink features highly reduced bacterial growth - microbial growth can double every 20 minutes, and the unique granite treatment strongly reduces this, making cleaning easier and more effective.
Ships via UPS/FedEx Ground
Great sink for our RV
by: Chris ✔Verified Buyer from: Nederland, Co on: July 30, 2018
Great experience ordering from kitchensource. The sink is great. We bought it for our van/RV. The sink has a great shape and feel to it. We have had a similar sink in our house for many years and expect it to wear with grace.



---

An Aoife Company LLC Store
500 Bic Drive, Suite 103, Milford, CT 06461
Tel: (203) 374-5425 Fax: (203) 373-0810
email:
support@kitchensource.com