(W = side to side) (D = front to back) (H = top to bottom)
Interior Dimensions:
25-5/8" W x 16-1/8"D x 7-1/8"H
Exterior Dimensions:
27-5/8"W x 19-3/4"D x 7-7/8"H
Note:
Dimensions may vary by 2% (plus or minus) due to material attributes and firing process.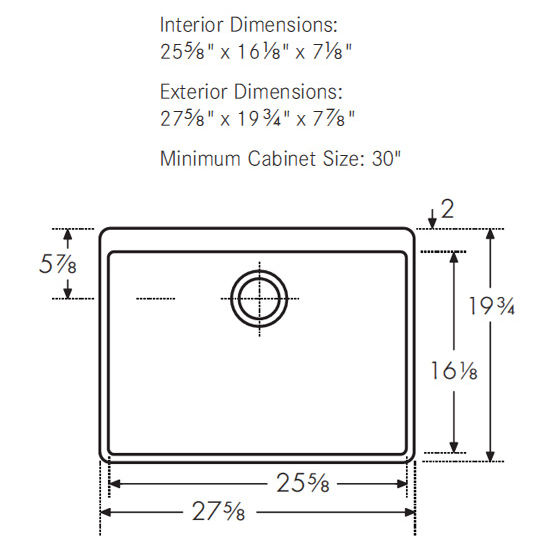 These rustic sinks may look like they came straight out of a cottage in the Camargue, but the features are up-to-date. Based on traditional designs, the Franke Fireclay Apron Front sinks are especially attractive with natural wood counter tops. Add that Old World charm to your kitchen without giving up modern day comforts. Made by Villeroy & Boch to the same exacting standard as Franke's stainless steel sinks, this sink has the ruggedness and the distinct looks to become the focal point of any kitchen. With exterior dimensions of 27-5/8" wide by 19-3/4" deep, the sink requires a minimum cabinet size of 30" and can be installed as a drop-on sink or undermounted for a clean look. With an interior height of 7-1/8" the sink offers plenty of room to soak dishes and larger pans. Franke recommends using the sink as a cutting template, since the firing process and material attributes of these sinks can cause the sink's dimensions to vary by up to 2%, making each Franke Fireclay sink a one-of-a-kind piece that is unique to your kitchen. The sinks are available in a White, Biscuit or Matte Black finish and are glazed on three sides with Franke's exclusive Ceramicplus finish, an extremely hard and virtually scratch-proof glaze with an ultra-smooth dirt repellent surface.

An Aoife Company LLC Store
500 Bic Drive, Suite 103, Milford, CT 06461
Tel: (203) 374-5425 Fax: (203) 373-0810
email:
support@kitchensource.com