Winsome Wood Inglewood Dining Table with Chairs Set
Available Options:

Piece of Furniture: 3-Piece Set: Dining Table with (2) Ladder-Back Chairs; 3-Piece Set: Dining Table with (2) Key Hole Chairs; 5-Piece Set: Dining Table with (4) Ladder-Back Chairs; 5-Piece Dining Table with (4) Key Hole Back Chairs; Dining Table (Only), Walnut; Benjamin Ladder Back Chairs, Set of 2, Antique Walnut; Renaissance Key Hole Back Chairs, Set of 2, Walnut

Material: Made of Solid Wood
Graceful, Curved Sides
Contoured, Tapered Legs
Table Shape: Rectangle
Weight Capacity: Table Top 125 lbs. and Chair 220 lbs.
Furniture Style: Transitional
Assembly Required
(W = side to side) (D = front to back) (H = top to bottom)
Dining Table Dimensions:
47-1/4" W x 29-1/2" D x 29-7/8" H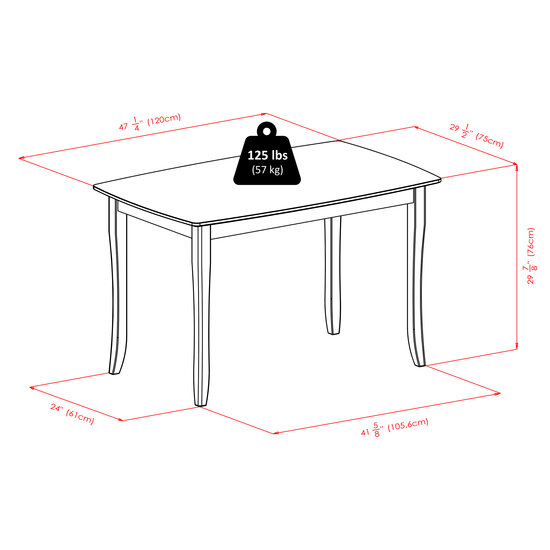 Benjamin Ladder Back Chair Dimensions (Each):
16-5/8" W x 18-5/8" D x 35" H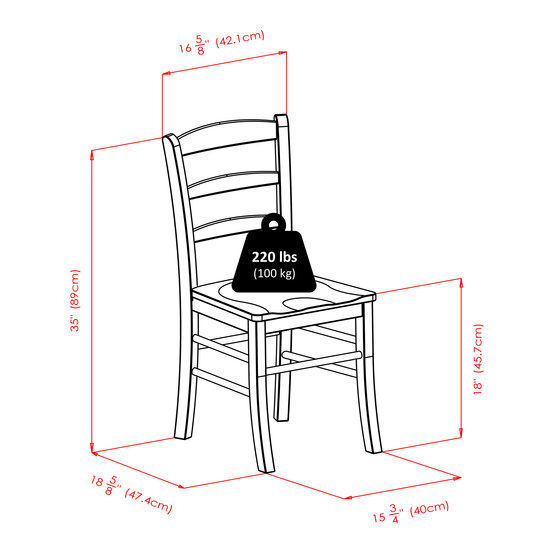 Renaissance Key Hole Chair Dimensions (Each):
17-3/8" W x 17-5/8" D x 36-3/4" H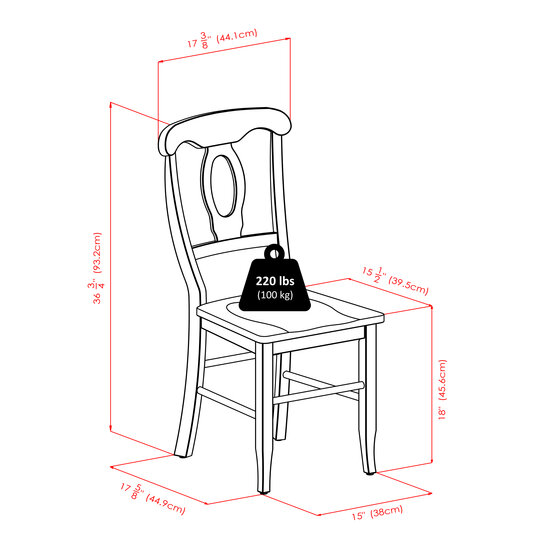 The Winsome Wood Inglewood Dining Table with Chairs Set is a stunning blend of grace and simplicity. An ideal table for studio apartments or smaller eating areas, comfortably accommodating a group of four. The tabletop has a softly curved profile supported by a solid frame. The contoured, cabriole legs give the table a refined design that will mesh effortlessly in your dining room or kitchen nook. Simple yet attractive and versatile for its oblong shape and size. This Inglewood table will combine great with several of the Winsome Wood dining chairs. Generous height clearance from floor to aprons that allows for dining chairs of any style. Finished in a warm walnut, this table is made up of remarkably sturdy solid wood for long lasting durability. Ready for assembly.
Ships via UPS/FedEx Ground
Do the chairs require assembly? - Asked about product WS-KF2502
Items WS-KF2502 do not come assembled, they require assembly once received.

0% of 0 people found this useful. Was this useful to you? Yes (0) | No (0)

---

An Aoife Company LLC Store
6 Landmark Square, 4th Floor, Stamford, CT 06901
Tel: (203) 374-5425 Fax: (203) 373-0810
email:
support@kitchensource.com