Hafele Salice Excenthree 3-Cam Concealed Hinge
Available Options:

Overlay Size: 1/2'' (12mm) Overlay, 3/4'' (19mm) Overlay, 1'' (26mm) Overlay, 1-1/4'' (32mm) Overlay, 1-3/8'' (32mm) Overlay
Type of Mounting Application: Dowel Mounted, Screw Mounted

Material/Finish: Steel, Nickel Plated
106 Degree Opening Angle
Ideal for Re-Facing and Applications where Frame Thickness Varies
Perfect Door Alignment: Simple to Achieve with 3 Automatic Cam Adjustments (Depth, Side, and Height)
7/16" (11mm) Cup Depth to Accommondate Narrow Door Profiles
Easy to Use Activation Switch Allows for Closing Speed Options
Tab 1/8" (2.5mm); Can be Increased to 1/4" (5.5mm) for Special Application
Zero Door Profusion: From 3/4" - 1-3/8" (19 - 35mm)
Integrated Soft Close Mechanism
Silentia with Motion Control Switch: On/Off to Set Dampening Effect (Slow Motion Effect Not Holding in Any Fixed Position)
Mounting Option: Screw or Dowel (Press-Fit) Mounted
(W = side to side) (D = front to back) (H = top to bottom)
Available Overlay Sizes:
1/2", 3/4", 1", 1-1/4", and 1-3/8" (Approximate Size); 12mm, 19mm, 26mm, and 32mm (Actual Size)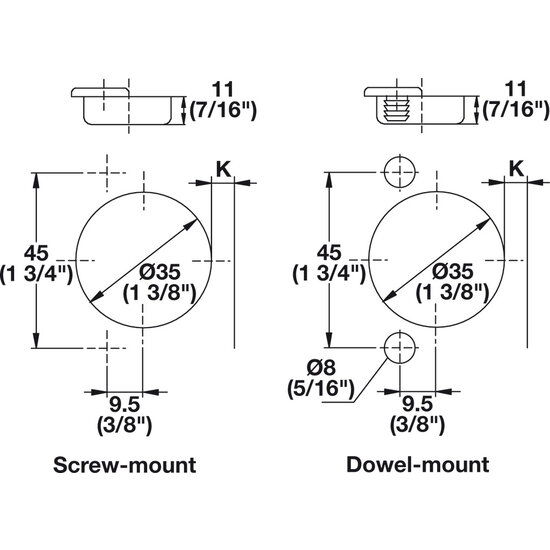 The Hafele Concealed Hinge, Salice Excenthree 3-Cam Series has 106 degree opening angle and ideal for re-facing and applications where frame thickness varies. Perfect door alignment that is simple to achieve with 3 automatic cam adjustments (depth, side, and height). With the 7/16" (11mm) cup depth, this concealed hinge accommodates narrow door profiles and easy to use activation switch allows for closing speed options. This concealed hinge features an integrated soft close mechanism, silentia with motion control switch: on/off to set dampening effect (slow motion effect not holding in any fixed position), and with the mounting option of screw or dowel (press-fit) mount.
Ships via UPS/FedEx Ground

An Aoife Company LLC Store
6 Landmark Square, 4th Floor, Stamford, CT 06901
Tel: (203) 374-5425 Fax: (203) 373-0810
email:
support@kitchensource.com