(
1
)
Top/bottom Mounted pair rated to hold up to 175lbs
For Pull-outs up to 20'' Wide
Compatable with 32mm Euro Hole Pattern Only
Material: Steel
Finish: Electro-Plated Zinc
Ball Bearing Drawer Slide
Not Left-Right Reversable
Lever Disconnect
Mounting Screws come Included

Self Close:
Shuts Drawers and keeps them shut
Triggered by 2-1/2'' push inwards
Self Close can Slam Drawers
(W = side to side) (D = front to back) (H = top to bottom)
22''L x 2-1/4''D x 2-3/16''H
Total Required Side Clearance:
3-1/8''
Minimum Drawer Height:
2-3/16''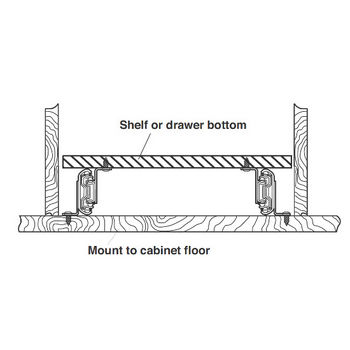 Accuride's 3600-201 Full Extension Top or Bottom Mounted Drawer Slide with Self Close allows you to tap your drawer face and watch the slide pull your drawer closed. Self Close will likely jostle your drawer's contents, and is recomended for jobs where delicacy is not required, such as pull out pantry shelves or recycling bin pull outs. Rated to hold 175lbs per slide pair, the 3600-201 is able to support all but the toughest jobs. A disconnect lever allows you to separate your drawer from its cabinet without worrying about accidental disconnects. Accuride's 3600-201 comes with mounting screws included.
Ships via UPS/FedEx Ground
Great product
by: Fritz ✔Verified Buyer from: Ascutney , Vt on: March 28, 2019
Easy to install/heavy duty as stated



---

An Aoife Company LLC Store
6 Landmark Square, 4th Floor, Stamford, CT 06901
Tel: (203) 374-5425 Fax: (203) 373-0810
email:
support@kitchensource.com