Hafele Tag Symphony Wall Mount System Organizer with Multiple Vertical Mounts and Horizontal Bars Configurations; Available Widths: 13-1/2" W, 23" W, 35" W, or...
Starting at $258.98
(Save 38%)

Free Shipping
Hafele Synergy Elite Fixed Mirror, Multiple Frame Finishes
$151.63
$227.92

Free Shipping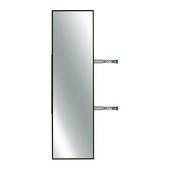 Hafele Synergy Elite Full Rotation Closet Mirror, Multiple Finishes - Up to 345º Rotation
$438.28
$654.42

Free Shipping

(1 total pages)
Modular Wall Mounts
Modular wall mounts are an efficient way to create extra storage space while maintaining organization. PegRail's collection of mounted cabinets include various finishes such as White, Natural, or Espresso, and can match any room décor and style. To create a custom look for each room, the cabinets' sleek metal handles are available in Polished Chrome or Satin Nickel finishes. For easy accommodation, choose from cabinets with 3 or 5 drawers for organization and convenience.

An Aoife Company LLC Store
500 Bic Drive, Suite 103, Milford, CT 06461
Tel: (203) 374-5425 Fax: (203) 373-0810
email:
support@kitchensource.com