Iron Holder Cradle - conveniently stores iron when not in use
Heavy-duty wire construction
Frosted Nickel finish
Can be installed on cabinet door or wall
Weight: 0.9 Lbs.
Made in the USA
(W = side to side) (D = front to back) (H = top to bottom)
Overall:
8-1/8" W x 5-1/8" D X 8-5/16" H
Minimum Cabinet Opening:
8-5/8" W x Length of Iron + 1-1/2" x Height of Irong + 1"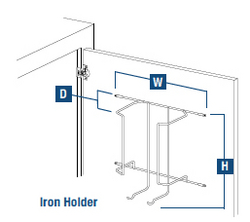 The Iron Holder by Knape & Vogt creates a convenient storage space for your iron when it is not in use. Utilize this iron holder in the laundry room, kitchen, or bathroom by mounting it on the inside of your cabinet door or below the ironing board, so your iron is there whenever you need it. Made of heavy-duty wire, the iron holder has a Frosted Nickel finish. The iron holder makes the perfect accessory to the Pressto Ironing Board. The iron holder ships via UPS.
Ships via UPS/FedEx Ground
Can you set your iron in this holder while it is still hot? - Asked about product KV-IH-FN
The holder is supposed to be for the iron when it is not in use, and though Knape & Vogt doesn't state to not put it in the holder when it's still hot, we recommend that you do not, since there are plastic pieces on the ends.

0% of 0 people found this useful. Was this useful to you? Yes (0) | No (0)

---

Can you please provide the dimensions of the opening for the iron width? I had to purchase a new Rowenta iron and it doesn't fit my currently owned iron holder. - Asked about product KV-IH-FN
The overall dimensions are 8-1/8" W x 8-5/16" H x 5-1/8" D, but the middle portion is 4" wide and 3-1/2" from front to back.

0% of 0 people found this useful. Was this useful to you? Yes (0) | No (0)

---

An Aoife Company LLC Store
1136-1146 Stratford Avenue, Stratford, CT 06615
Tel: (203) 374-5425 Fax: (203) 373-0810
email:
support@kitchensource.com