(W = side to side) (D = front to back) (H = top to bottom)
Total Width:
2895mm (Actual Size) 114" (Approximate Size)
Total Height:
56.5mm (Actual Size) 2-1/4" (Approximate Size)
Projection:
26mm (Actual Size) 1" (Approximate Size)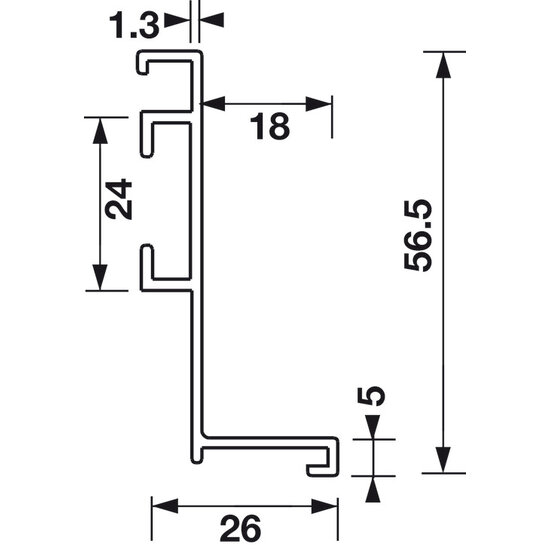 Prepare to bring a touch of Venetian charm to your cabinets with the Hafele Design Deco Series Venice L-Profile Horizontal Cabinet Handle. This handle is not just your run-of-the-mill hardware—it's a little slice of Italy that will elevate your kitchen, bathroom, or closet to new levels of style. Crafted from high-quality aluminum, the Hafele Design Deco Series Venice handle combines durability with a hint of sophistication. With its impressive 114" width and 2-1/4" height, it's like having a piece of Venetian architecture right at your fingertips. But the real beauty lies in the assorted finishes available. Whether you're drawn to the timeless elegance of polished brass or the sleek modernity of satin nickel, there's a finish to suit every taste and style. Installation is a breeze, thanks to the L-profile design of the handle. Just keep in mind that mounting hardware screws are not included, but a quick trip to the hardware store will have you fully equipped. It's a small effort for a big style payoff.

An Aoife Company LLC Store
6 Landmark Square, 4th Floor, Stamford, CT 06901
Tel: (203) 374-5425 Fax: (203) 373-0810
email:
support@kitchensource.com