(W = side to side) (D = front to back) (H = top to bottom)
Total Width:
2500mm (Actual Size) 98-7/16" (Approximate Size)
Total Height:
19mm (Actual Size) 3/4" (Approximate Size)
Projection:
19mm (Actual Size) 3/4" (Approximate Size)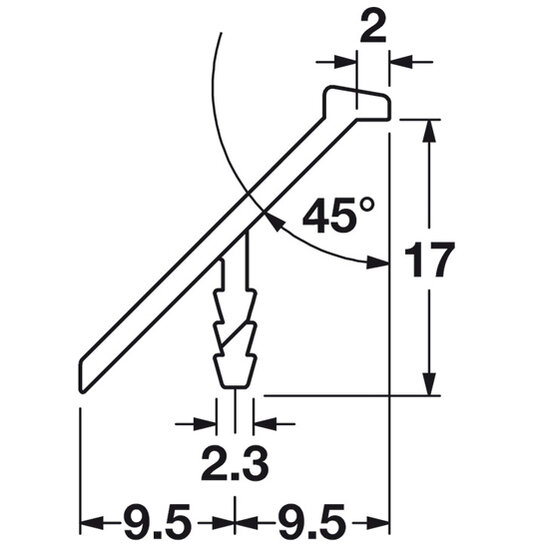 Elevate your cabinets to the pinnacle of style with the Hafele Design Deco Series Minimalist Edge Profile Inset 45 Degree Handle. This handle is not just your ordinary cabinet hardware—it's a bold statement that will make your kitchen, bathroom, or closet the envy of all who see it. Crafted from high-quality aluminum, the Hafele Design Deco Series handle combines durability with a touch of contemporary elegance. Its 98-7/16" width makes a grand impression that says, I'm here to bring some serious style! But here's the best part—this handle's minimalist edge profile and inset 45-degree design add a touch of architectural flair to your cabinets. It's like giving them a makeover by a high-end designer—without the hefty price tag. Please note that mounting hardware screws are not included, but fear not! With a little DIY spirit and a trip to the hardware store, you'll have everything you need to secure this handle in place. It's a small effort for a big style upgrade.

An Aoife Company LLC Store
6 Landmark Square, 4th Floor, Stamford, CT 06901
Tel: (203) 374-5425 Fax: (203) 373-0810
email:
support@kitchensource.com