(W = side to side) (D = front to back) (H = top to bottom)
Total Width:
2500mm (Actual Size) 98-7/16" (Approximate Size)
Total Height:
62mm (Actual Size) 2-7/16" (Approximate Size)
Projection:
32mm (Actual Size) 1-1/4" (Approximate Size)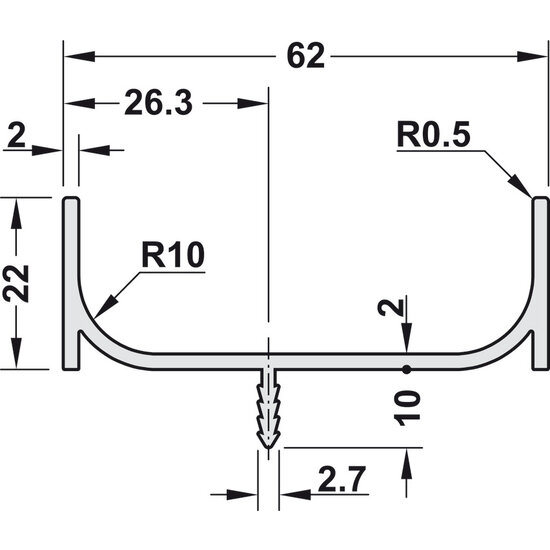 Get ready to make a bold design statement with the Hafele Design Deco Series Passages Vertical C-Profile Continuous Handle. This handle is not just your average cabinet hardware—it's a game-changer that will transform your kitchen, bathroom, or closet into a stylish haven. Crafted from high-quality aluminum, the Hafele Design Deco Series Passages handle combines durability with a touch of elegance. Its 98-7/16" width and 7/8" depth make a grand impression that will leave your guests in awe. But here's the best part—this handle comes in multiple finishes, allowing you to personalize your space to perfection. Whether you prefer the classic charm of brushed nickel or the modern allure of matte black, there's a finish that will suit your style. Installation is a breeze, as this handle is designed for handless fronts and tall cabinet sidewalls. Plus, please note that mounting hardware screws are not included, but with a little resourcefulness and a quick trip to the hardware store, you'll have this handle securely in place.

An Aoife Company LLC Store
6 Landmark Square, 4th Floor, Stamford, CT 06901
Tel: (203) 374-5425 Fax: (203) 373-0810
email:
support@kitchensource.com