(W = side to side) (D = front to back) (H = top to bottom)
Total Width:
2500mm (Actual Size) 98-7/16" (Approximate Size)
Total Height:
50mm (Actual Size) 1-15/16" (Approximate Size)
Projection:
23mm (Actual Size) 7/8" (Approximate Size)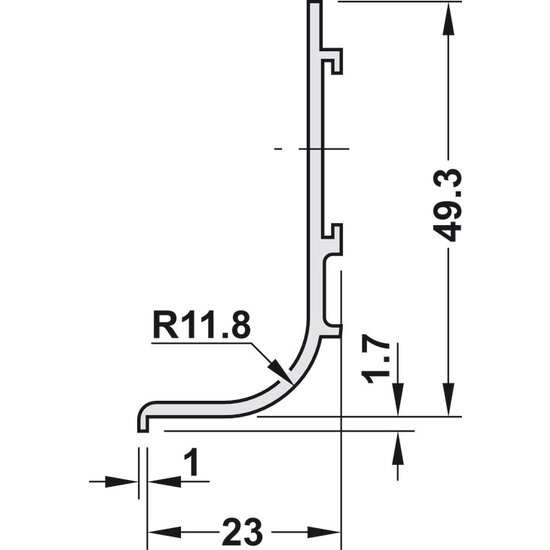 Get ready to take your cabinets to new heights of style and sophistication with the Hafele Design Deco Series Passages L-Profile Continuous Handle. This handle is not just your ordinary hardware—it's a game-changer that will make your kitchen, bathroom, or closet the talk of the town. Crafted from top-notch aluminum, the Hafele Design Deco Series Passages handle brings together durability and elegance in one sleek package. Its 98-7/16" width and 1-7/8" height make a bold statement that says, I'm here to impress. But here's the best part—this handle comes in multiple finishes, giving you the power to customize your cabinets to perfection. Whether you're a fan of the timeless charm of brushed nickel or the modern allure of polished chrome, there's a finish that will suit your style. Please note that mounting hardware screws are not included, but fear not! With a sprinkle of resourcefulness and a quick trip to the hardware store, you'll have this handle securely in place. It's a small DIY project that will have a big impact.

An Aoife Company LLC Store
6 Landmark Square, 4th Floor, Stamford, CT 06901
Tel: (203) 374-5425 Fax: (203) 373-0810
email:
support@kitchensource.com