Hafele Product Image Disclaimer: Due to the variances in computer monitors and the various settings to brightness and contrast that users may adjust their monitors to, we cannot guarantee with any certainty that the color represented in a product image on your monitor is exactly as it appears in the physical world.
(W = side to side) (D = front to back) (H = top to bottom)
Total Width:
2500mm (Actual Size) 98-7/16" (Approximate Size)
Total Height:
38mm (Actual Size) 1-1/2" (Approximate Size)
Projection:
21.5mm (Actual Size) 7/8" (Approximate Size)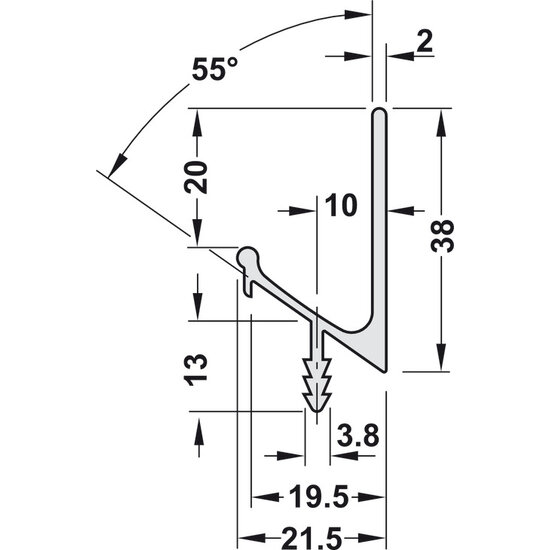 Step up your cabinet game with the Hafele Design Deco Series Minimalist Extruded Continuous Aluminum Cabinet Handle in Matt 106AL37. This handle is not just your ordinary hardware—it's a fashion-forward accessory that will turn your kitchen, bathroom, or closet into a style haven. Crafted from high-quality aluminum, the Hafele Design Deco Series handle combines durability with a touch of minimalist elegance. Its 98-7/16" width and 7/8" depth make a bold statement that will catch everyone's eye. But here's the best part—the matt finish in 106AL37 adds a touch of sophistication to your cabinets. It's like wrapping them in a cozy blanket of modern charm. Who said cabinets can't be fashionable? Please note that mounting hardware screws are not included, but fear not! With a little creativity and a trip to the hardware store, you'll have this handle securely in place. It's a DIY project that will showcase your ingenuity.
Ships via UPS/FedEx Ground

An Aoife Company LLC Store
6 Landmark Square, 4th Floor, Stamford, CT 06901
Tel: (203) 374-5425 Fax: (203) 373-0810
email:
support@kitchensource.com