Shop by Category
Shop by Brand
Bathroom vanities do more than house your sink and offer storage. The quintessential bath vanity sets the tone of the room and embodies the spirit of your design scheme or décor. Bath vanity brands like Empire, Stainless Craft, Whitehaus and Wood Crafts offer bathroom vanities that change the overall feel of your bathroom by adding the look of fine furniture in traditional or contemporary designs. ARIEL and Virtu bath vanity sets make bathroom design easy and include several components like the vanity, side cabinets, basin and mirror, or the vanity, basin, countertop and faucet.

Jeffrey Alexander bath vanities feature detailed artwork and old world charm, bringing the look of an heirloom into your bathroom. Stainless Craft and Whitehaus bath vanities have a modern flair, using wood, glass, ceramic and metal to create unique and elegant bathroom ensembles. Wood Crafts bathroom vanities are available in several traditional styles, including Shaker, and come in stained or timeworn painted finishes that add a splash of color to the bathroom. We offer only the finest bathroom vanities from top manufacturers, so you are sure to find the perfect bathroom vanity in our fine selection. Our expert sales team is waiting to assist you in placing your order.
Featured - ARIEL Bath Vanities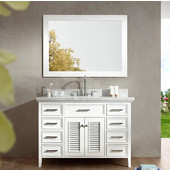 ARIEL bathroom vanities are created with style above all else. ARIEL provides vanities in a huge range of styles from the beachfront inspired Shakespeare with a white body and open storage shelf, to the penthouse-worthy Stafford with its dark and handsome framing. Don't settle for brands which cut corners on style, using the same mirrors, sinks and drawer handles for every item they sell. ARIEL's vanities are attention-to-detail masterpieces, with design behind every detail- browse through our ARIEL selection and see for yourself.

An Aoife Company LLC Store
1136-1146 Stratford Avenue, Stratford, CT 06615
Tel: (203) 374-5425 Fax: (203) 373-0810
email:
support@kitchensource.com