Buying Guide: How to Choose a Bathroom Faucet
It may seem as simple as H2O, but your choice of
bathroom faucet
reflects on your personal taste as well as family needs. Whether you are a high-tech guru, a design diva or a true traditionalist, there is a host of options for you to choose from. With so many choices on the market, our comprehensive guide will help lead you to the right one.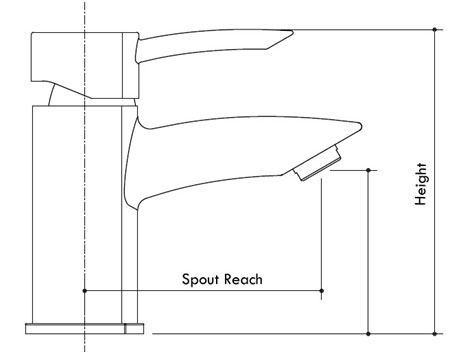 First, Measure
Before you begin exploring the type of faucet for your fancy, take note of a few things: How many holes does your sink have? Unless you are installing a new sink with your faucet, this will directly impact your options. For example, a widespread faucet requires three holes while a single-hole only requires one. If you are retrofitting a single-hole faucet into a multiple-hole sink, look for one with a deck that will cover the remaining holes. Then, consider the height. If you have a vessel sink, your faucet will need to be quite tall, while a short faucet is fine for a drop-in or undermount installation. Keep in mind that the faucet needs not only to be taller than your sink but to leave enough room for washing hands, brushing teeth and so on. Similarly, consider spout reach. This is how far the spout sticks out over the sink. This should be long enough to reach an inch or so past the sink opening to prevent spillage, but not so far that it overwhelms the sink space.
Choice of Style
Whether you are retrofitting your new faucet into an existing installation or going for a completely new setup, your faucet of choice must sync up with your sink. Specifically: hole count, height and spout reach.
Single Hole
: Single hole faucets take up the least amount of space on your vanity, and are ideal for powder rooms or smaller layouts or to accompany a vessel sink. The lever(s) is located on the spout to control temperature. These models are available in an array of heights and styles but typically sport a shorter spout reach. Try a stylish waterfall faucet for a modern take on this construction.
Widespread
: A more traditional design, widespread faucets feature a single spout plus separate handles for hot and cold. This installation requires three sink holes, and the standard distance between handles is at least 8-inches, so make sure your sink is large enough. Though the styles are typically more classic, choose a modern spin for a unique look.
Wall-Mount
: Designed to mount above vessel and undermount sinks without holes, wall-mount faucets typically have longer reaches to extend well over the bowl-top. Also, be sure to leave enough height over the sink for washing.
Finally, Finish
Thankfully, there is no shortage of options when it comes to a finish for your faucet. Whatever you choose, we recommend matching the faucet with your other
bathroom accessories
(towel bars, toilet paper holders, robe hooks, etc.) for a clean, coordinated look.
Polished Chrome: One of today's most popular choices, this clean and shiny look offers long-lasting style. But keep in mind that chrome, or any lustrous finish, will require more cleaning to avoid water spots and dullness.
Bronze: A more rustic look, bronze offers a romantic touch that looks great with glass or stone sinks.
Nickel: Like chrome, this versatile metal looks great with any number of applications. Featured in a brushed finish, nickel will resist visible scratches or smudges. A matte or brushed option is great for homes with children.
Brass: An elegant, classic finish; brass looks great in traditional bathrooms. Also, it's a good idea to choose a faucet crafted from solid brass, which lasts longest and requires the least amount of care.
Kraus
and
Vigo
bathroom faucets, for example, are crafted from solid brass.
Other Options
Left-over holes? Consider some choice accessories like a stylish
soap dispenser
.
For the high-tech type, you might consider a
touch-free faucet
that delivers water at the wave of a hand with an infrared sensor.
Too difficult to choose a sink and faucet separately? Opt for an expertly-designed
faucet set
which comes with a coordinating sink.

An Aoife Company LLC Store
500 Bic Drive, Suite 103, Milford, CT 06461
Tel: (203) 374-5425 Fax: (203) 373-0810
email:
support@kitchensource.com