Aquatica Dynamo Built-In Square Shower Head
Material: Solid Brass
Finish: Chrome
Shape: Square
Installation Type: False Ceiling
Large 13-2/5" (340MM) Shower Head
Self Powered System: Built-In Micro-Turbine (Produces Electrical Power From The Water Flow Inside The Shower Head)
Included Piezoelectrical Remote Control
Aesthetically Pleasing and Relaxing in Use
Micro LED Ring is Low Power Consumption
Ceiling Mounted and Eco-Friendly Shower Head
Seven Colors LED Light without Electrical Power Supply
Minimum of 3 Bar Water Pressure Recommended for Best Performance
Soft White LED - Without Electrical Power Supply
Ceiling Mounted Small Shower Arm Is Included
Compatible with Similar Aquatica Shower Arm Model
Anti-Lime Nozzle System
5 Year Warranty
Assembly Required
(W = side to side) (D = front to back) (H = top to bottom)
Showerhead Dimensions:
13-1/2" W x 13-1/2" D x 5" H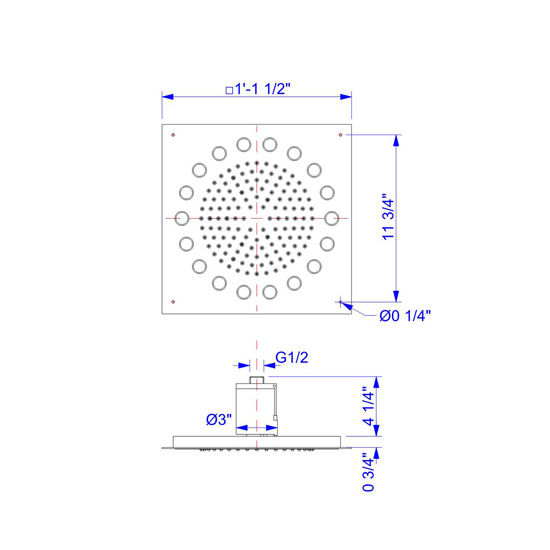 The Dynamo Built-In Square Shower Head by Aquatica is a cutting-edge development in the field of contemporary bathroom ware. The Aquatica Dynamo Shower Head Series is an innovative and beautifully designed shower head with 7-LED mood light setting system, designed for maximum relaxation. The Dynamo is powered by an ultra-efficient micro-turbine mounted inside the shower head, which uses water flow energy, which generates electricity to power its LED lights.

An Aoife Company LLC Store
500 Bic Drive, Suite 103, Milford, CT 06461
Tel: (203) 374-5425 Fax: (203) 373-0810
email:
support@kitchensource.com