Broan QTDC™ Series Bathroom Exhaust Fan
Selectable CFM DC motor enables right-sizing ventilation at 150/130/110 CFM for any size room Energy
Quiet operation of <0.3-0.4-0.7 sones
ENERGY STAR® Certified
With twice the ENERGY STAR® Efficiency Standard the QTDC™ Series continues to save money long after installation
Motor engineered for continuous operation
The brushless DC motor achieves 90% efficiency so you can feel good about letting it run while keeping the air more comfortable
Hanger bars to position housing anywhere on center joists
Unique patented spacers for mounting to engineered "I" joists
Rugged, galvanized steel construction to withstand moisture
3 years Limited Warranty
(W = side to side) (D = front to back) (H = top to bottom)
Housing Overall Size:
10-1/2"W x 11-3/8"D x 7-5/8"H
Grille Overall Size:
13"W x 13-3/4"D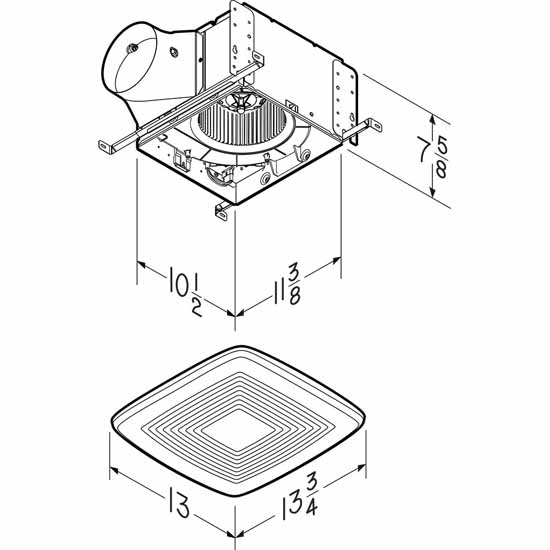 When looking to bring simple elegance to your bath or powder room, choose no other than the QTDC™ series fan by Broan. By sight or by sound, you'll barely notice a QTDC fan with ranging with less than .3 sones. With its adjustable speed options you can select 150/130/110 CFM for your room's needs as its Sensaire® Sense on Rise Technology can also automatically turn the fan on when it detects a rapid to moderate humidity increase. The energy efficient brushless motor design is 1/3 the size of a standard fan motor and also provides more room to move air more quietly. With twice the ENERGY STAR® Efficiency Standard the QTDC™ Series continues to save money long after installation. The QTDC™ Series bathroom exhaust fan is the ultimate solution for today's homes.
Ships via UPS/FedEx Ground

An Aoife Company LLC Store
500 Bic Drive, Suite 103, Milford, CT 06461
Tel: (203) 374-5425 Fax: (203) 373-0810
email:
support@kitchensource.com