Shop by Category
Shop by Brand
Bathroom exhaust fans by Air King and Fantech, pioneers in bathroom ventilation and kitchen ventilation systems. Fantech and Air King bring you a fantastic line of bathroom exhaust fans that are designed to operate quietly and effectively, so people actually use them. Yet their affordability means they're right for every bathroom-from simple to luxurious.
Featured - Air King Deluxe Ultra Quiet Series Exhaust Fan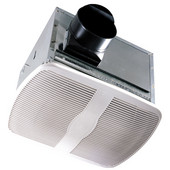 The Deluxe Quiet Series bathroom exhaust fans from Air King provide powerful ventilation, low sound levels and attractive grills. The fan is available in 80 or 90 CFM.

An Aoife Company LLC Store
1136-1146 Stratford Avenue, Stratford, CT 06615
Tel: (203) 374-5425 Fax: (203) 373-0810
email:
support@kitchensource.com