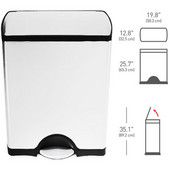 simplehuman

® Rectangular Step Can, 13...
SH-CW1522
$161
$179


Free Shipping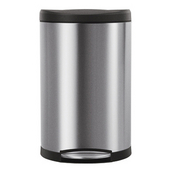 simplehuman ® Plastic Lid Semi-Round Step Can, 8 Gallon (30L), Brushed Steel Finish
SH-CW1178
$99
$114


Free Shipping
simplehuman ® Plastic Step Can, 1.6 Gallon (6L), Black
SH-CW1319
$20.49
$27.32


Free Shipping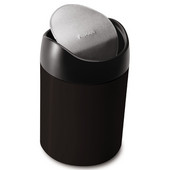 simplehuman ® Countertop Trash Can, Black Steel, 0.4 Gallon (1.5L)
SH-CW1638CB
$20.99
$27.98


Free Shipping

(1 total pages)
simplehuman® was founded with the mission to reinvent the trash can. Their innovative designs offer hands-free use with freestanding, countertop and under-cabinet trash cans available in an array of sizes, all crafted from fingerprint-proof stainless steel. With features including a silent close lid, rubber-padded non-skid base and removable inner bucket, simplehuman® really did revolutionize the trash can. Plus, all step cans have an ultra-strong pedal engineered to last over 150,000 steps (more than 20 steps a day for 20 years!).

An Aoife Company LLC Store
1136-1146 Stratford Avenue, Stratford, CT 06615
Tel: (203) 374-5425 Fax: (203) 373-0810
email:
support@kitchensource.com